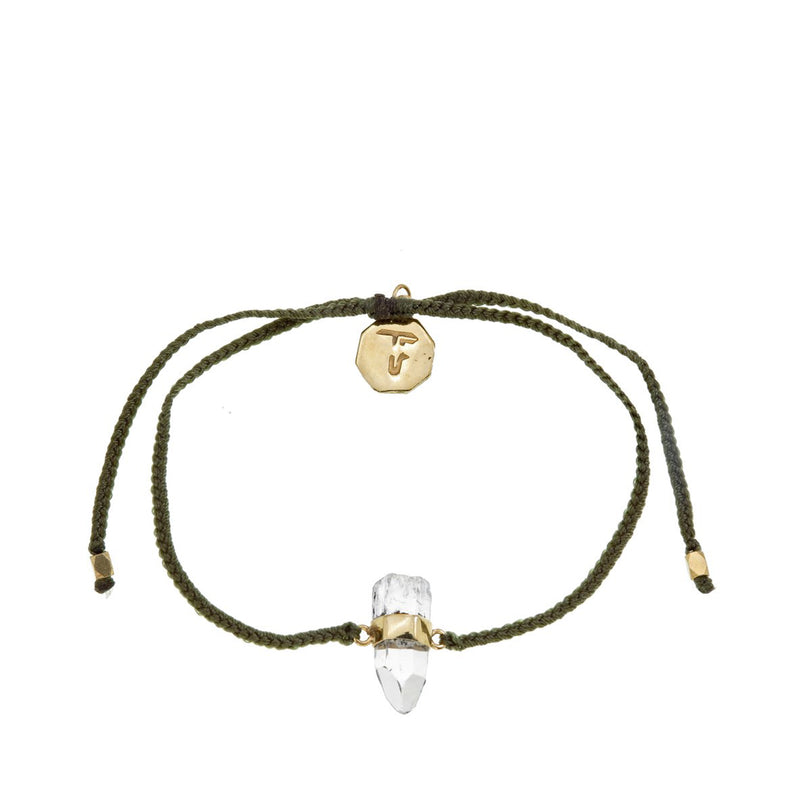 Crystal Charm Braclet
$49.95
DETAILS
PLEASE SPECIFY WHICH COLOUR YOU'D LIKE IN NOTES.
BRACELET #1: Hand braided olive green cord, quartz crystal  
GEM GUIDE 
Transformation and Cleansing
Quartz Crystal is a storm element stone which radiates powerful energy at a frequency which supports clearing and transformation


BRACELET #2: Hand braided pastel grey cord, with an apatite crystal
GEM GUIDE 
Communication, Intellect and Manifestation; Connects wisdom of the  heart to abilities of the mind
Apatite clears away confusion and negativity then stimulates the intellect to expand knowledge  for personal growth or the collective good. It is a stone of Manifestation,  promoting a humanitarian outlook and service to others.
BRACELET #3:

MATERIAL Hand braided cord, cut with an amethyst crystal.

GEM GUIDE 
Calmness, Protection and Purification
Amethyst stimulates intuition and supports the activation of your psychic abilities and connection to higher guidance, making it a powerful tool for spiritual expansion.
BRACELET #4:  
MATERIAL Hand braided dusty pink cord, with a garnet crystal
GEM GUIDE Purity, Truth, Love and Compassion
Garnet's deep red and pink hue makes it an alluring stone which inspires pleasure while assisting one to manifest dreams and desires.

SIZE 
Adjustable wrist size | crystal roughly 5mm by 1cm
ALL GOLD PLATED STERLING SILVER
Gallery
Crystal Charm Braclet