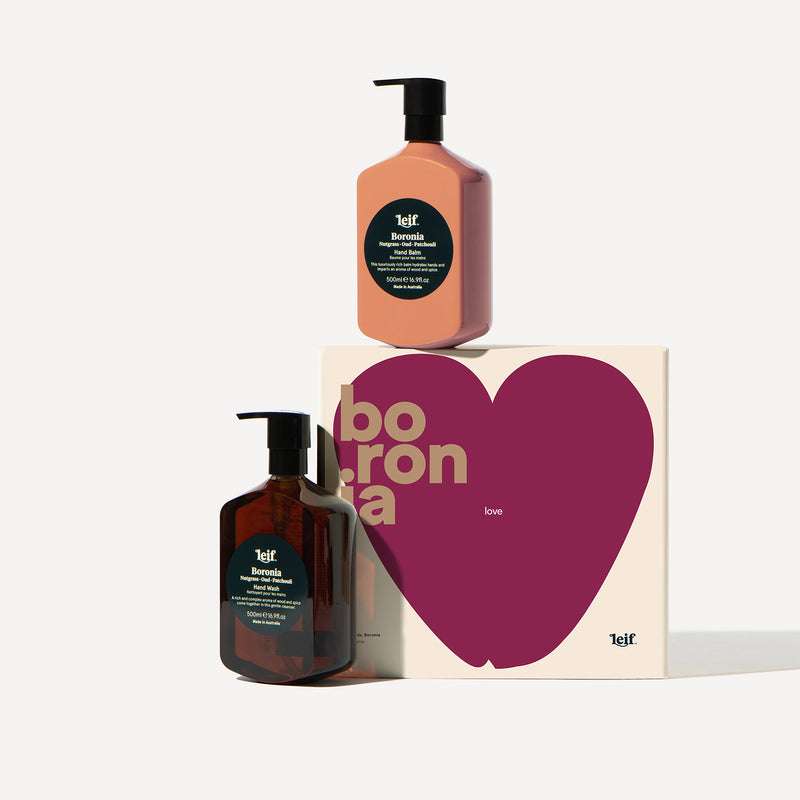 Love Two Hands — Boronia
$99.00
Enquire Now
DETAILS
Boronia with Nutgrass, Oud and Patchouli.

Big-hearted kits for Mothers and Others, delivering a memorable message to those that hold it all together. This gift set pairs two Boronia 500ml products, presented with an oversized colourful heart raised in high gloss. Scent names are highlighted in metallic golden ink and each kit comes in a reusable drawstring cotton bag.
Boronia
high in antioxidant and anti-inflammatory properties, Boronia helps to prevent skin damage and works as a natural sleep aid.
Nutgrass
A multi-use elixir, Nutgrass comforts and calms dry skin with its high Vitamin E content.
Oud
A seductive and earthy aroma that instils a deep sense of peace and spiritual calm.
Patchouli
A bushy, aromatic herb from the mint family which helps to relieve skin imperfections.

Made in Australia. 100% vegan and cruelty-free.

INCLUDES:

Boronia Hand Wash 500ml
Boronia Hand Balm 500ml
SCENT:
Wood & Spice
Gallery
Love Two Hands — Boronia