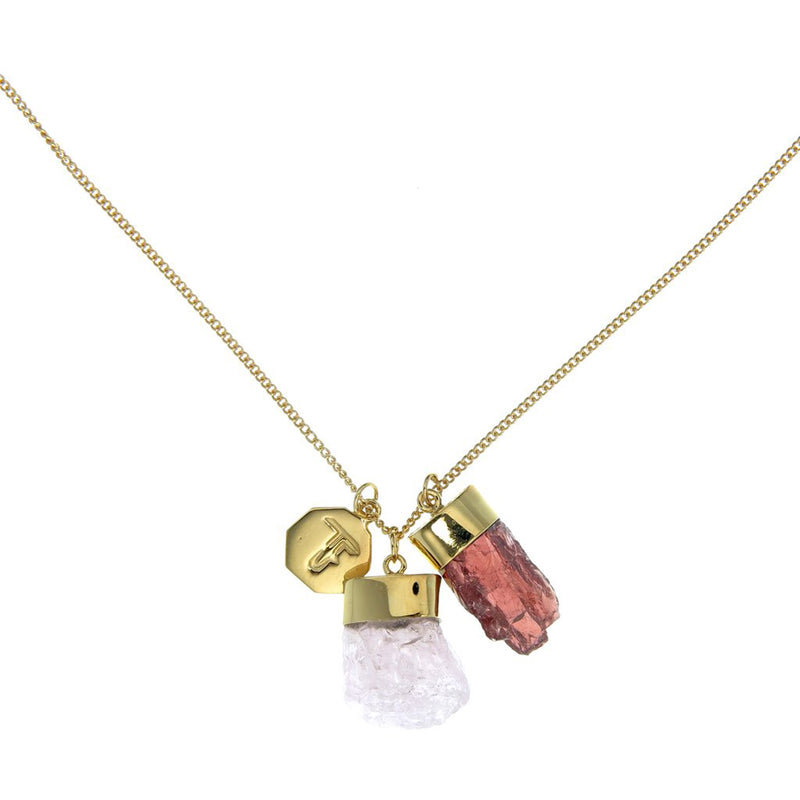 Super Power Charm Necklace
$164.95
DETAILS
PLEASE SPECIFY WHICH COLOUR YOU'D LIKE IN NOTES!
NECKLACE #1 - ROSE QUARTZ AND GARNET

ROSE QUARTZ
Love, Compassion, Peace

Rose quartz is the stone of universal love. It restores trust and harmony in relationships and purifies one's heart, promoting love, friendship, healing, and peace.
RED GARNET & RHODOLITE GARNET 

Purity, Truth, Love, and Compassion
Garnet's deep red and pink hue makes it an alluring stone that inspires pleasure while assisting one to manifest dreams and desires.
NECKLACE #2 -DIAMOND QUARTZ AND APATITE

DIAMOND QUARTZ 
Harmony, Connection, Amplification
This magnificent hexagonal crystal, with it's double termination, has the ability to emit and receive energies simultaneously and is an excellent stone for linking people who are physically apart. Partnered with other gemstones, Diamond quartz also has the unique gift of enhancing and amplifying their healing properties, making them infinitely more effective.
APATITE
Connects wisdom of the heart to abilities of the mind
Apatite clears away confusion and negativity then stimulates the intellect to expand knowledge  for personal growth or the collective good. It is a stone of Manifestation,  promoting a humanitarian outlook and service to others.
NECKLACE #3: CITRINE AND SMOKY QUARTZ

CITRINE
Prosperity, Luck, Clarity

Citrine is known as the lucky "merchants stone" it enhances success in all areas of business. It is also worn to increase self-esteem, open one's mind to new ideas, and to promote clarity of thought.
SMOKY QUARTZ
Protection, Cooperation, Grounding
This crystal promotes rational, pragmatic thought processes and improves organisational skills. Smoky quartz is also useful in guarding one against negativity, reducing stress, and increasing concentration.
MATERIAL 
Gold plate on sterling silver 

SIZE 
Length 45cm
Gallery
Super Power Charm Necklace